Sarcomyxa serotina


Posted by Paul 12/27/13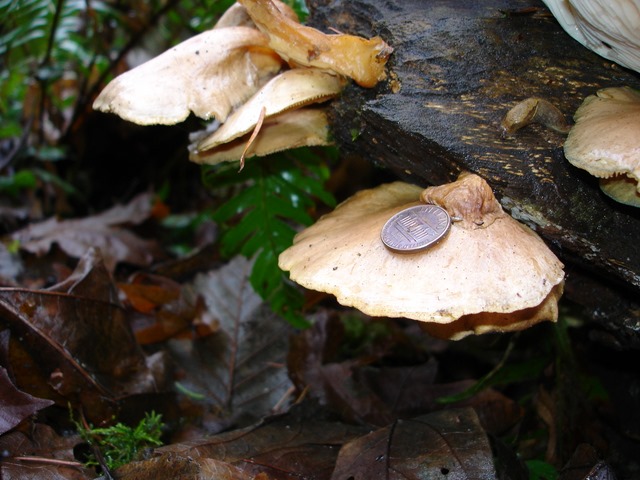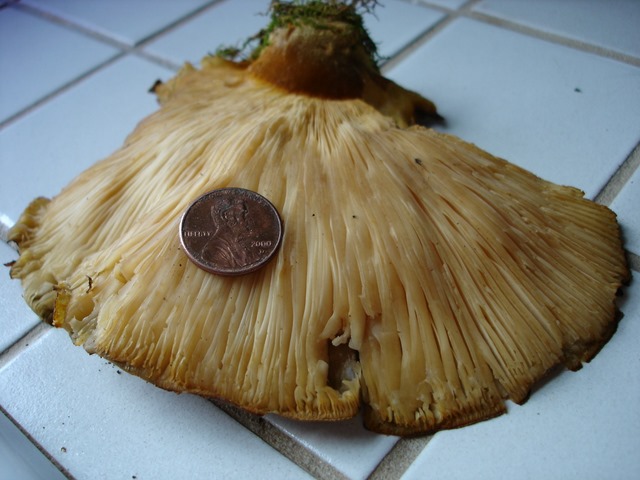 Paul: Could hardly believe the superabundance of this mushroom. It obviously grows on wood and is in good shape (not frozen floppy). My attempt for a spore print was unsuccesful or very white. A penny in each photo gives an idea of dimensions.

I think I have been fooled by this species before because of the lack of dark spores but that was in August. Joe insisted the August specimen was Tapinella (Paxillus) and I reluctantly came to understand his call even though then and now there was not a good spore print aparrently due to moist conditions. Speaking of spores, note that the lower shelfed mushrooms do not have signs of brown spores. The give away seems to be the brown band (poroid gills?) close to the attachment which is diagnostic for Tapinella.
Did I get it right?
I wonder if this species produces some sort of antifreeze that allows it to maintain its shape during single digit temps?


Sava: This is Sarcomyxa serotina. You found it a month ago and posted.
I also saw the same mushroom a month ago in THNP (Tualatin Hills Nature Park) and then I saw it again this Sunday. Remember the stubby stem with "dark scales on an ocherish to saffron-yellow background".

Tapinella is not a bad guess based on the overall looks of the mushroom. In fact, Tapinella panuoides has confused me more than once as a S. serotina's look-alike.

Spore prints are best taken on glass or transparent plastic foil.
I think Taylan cooked this mushroom recently and didn't enjoy it.

Joe: What are the macroscopic differences between Sarcomyxa serotina and Tapinella atromentosa?
(I won't have access to Matchmaker for about another week.
And I don't even know if Tapinella is in Matchmaker;
because it's a small genus, it was not included in the Pacific NW Key Council keys.)

Sava: Both mushrooms have distinctive stem surface. In T. atrotomentosa it is dark (reddish) brown, densely covered with fine hairs that give it a beautiful felty/velvety appearance.

Below is a crop I made from an image on Mushroom Observer (by JimmyV):

There are other differences. For example, S. serotina is usually seen in the winter, while T. atrotomentosa is one of the earliest mushrooms that show in the fall season. Hope this helps.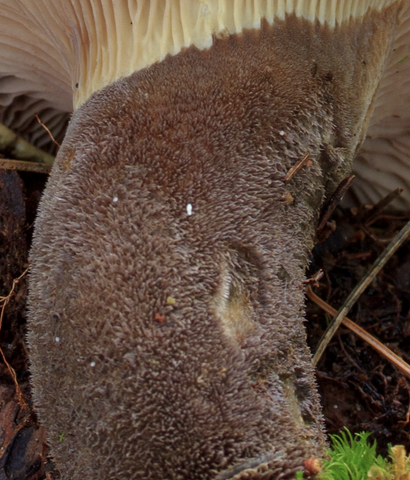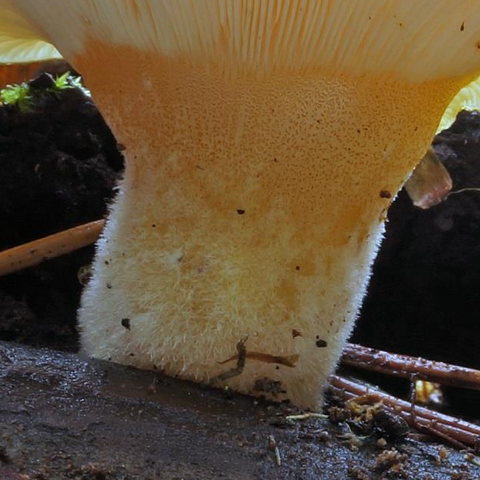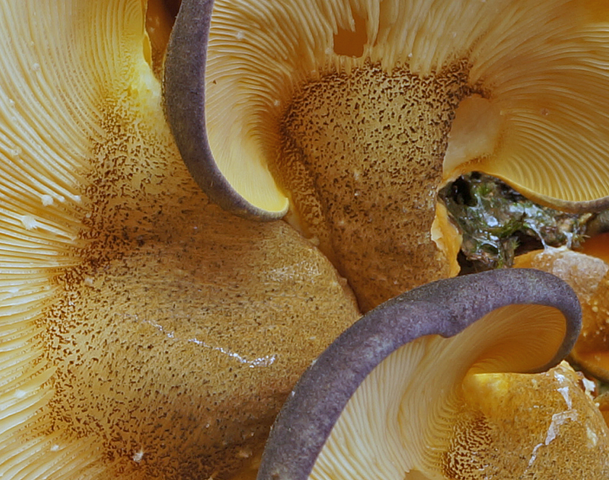 Taylan:Yes, I did indeed cook several pounds of it and to say "he did not enjoy it" would be an understatement. I have some funny stories to share about this mushroom and hope to post it sometime.

In short, it tastes pretty bad. Slimy and tasteless. When cooked, has the smell of the mud from the bottom of a murky lake (in August). I ate a few of them just for the adventure value. Keep an eye for the recipe I did and the reasons behind it. lol

Rarely will a mushroom get me twice for a profound mis-ID, but this sucker did it just days apart. 11.5lbs in first trip and 6lbs in the second. I thought I had it nailed with the kidney-like shapes and yellowish hue, but obviously hadn't. My oyster ID confidence has been tarnished beyond repair.

Joe: The Pacific Northwest Key Council says: "EDIBILITY not choice, sometimes bitter.

Two members of Spokane Mushroom Club reported nausea and stomach upset from ingestion.
" Brown & Gibson, Trial field key to the PLEUROTOID SPECIES in the Pacific Northwest (rev. 2003) (key #17(a); Panellus serotinus)



Do offer some comments: Message will go to Elmer
Type your message in the box below and include your name